Dr. Karna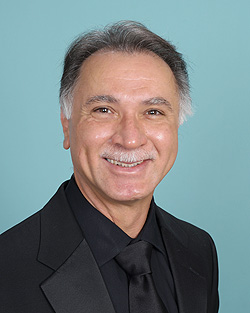 Harry A. Karna DDS, MS
Dr. Harry Karna began his studies at the Government Dental College & Hospital of Bombay, India in 1981 and received his Bachelor of Dental Surgery Degree in 1985. After obtaining his California State Dental License in 1992, Dr. Karna practiced in San Francisco for 2 years and then moved to Southern California. He purchased an office in 1994 in Moreno Valley where he has since been in practice.
Dr. Karna is a Board Certified Diplomate Specialist in OroFacial Pain and Oral Medicine, having trained from the prestigious University of Southern California (USC). Dr. Karna's extensive 3 years of specialty training in Orofacial pain provides an interdisciplinary diagnostic and treatment service for patients with complex head, neck, temporomandibular, and orofacial pain. Pain can affect one's quality of life and performance skills, leading to emotional distress and depression. The earlier the condition is diagnosed, the better the prognosis. Patients with the orofacial pain symptoms should be referred to a specialist with expertise in the diagnosis and treatment of these disorders. The orofacial pain specialist provide care at various levels, such as direct treatment, prescribing medication, prescribing rehabilitative services, performing pain relieving procedures, counseling of patients and families, direction of a multidisciplinary team, coordination of care with other healthcare providers pursuant to optimal healthcare delivery to the patient suffering from a painful disorder.
Dr. Karna has taken several advanced dental continuing education courses at UCLA, USC, Loma Linda School of Dentistry, New York University School of Dentistry, UCSF and UCSD to name a few that allow him to perform simple to complex procedures in dentistry. Dr. Karna emphasizes a holistic approach towards dental treatment. He practices all phases of general dentistry including, but not limited to, cosmetic dentistry, restorative dentistry, removable and fixed prosthodontics, minor oral surgery, periodontics, implant dentistry and endodontics.
Dr. Karna continues to enhance his skills with advanced continuing education and the introduction of new technologies into his practice. He is involved in various community projects and activities, and donates his time and services to various nonprofit organizations. Dr. Karna is a member of the following organizations:
Diplomate and Member of the American Board of OroFacial Pain
Associate Fellow of the American Academy of Implant Dentistry
Member of the American Academy of OroFacial Pain
Mentor for the American Academy of Implant Dentistry
Graduate and Alumni Member of the Dawson Academy
Member of the Indian Dental Association
Unlike most dentists, Dr. Karna practices the Concept of Complete Dentistry, which emphasizes a comprehensive, individualized approach to a patient's dental care, beginning with prevention and early intervention. Contrary to what you might think, this doesn't mean drill and fill every tooth.
Rather, the Complete Dentistry that Dr. Karna practices requires an understanding of every structural part of your chewing system, including your jaw joints, facial and temporal muscles, and teeth. In the long run, this could save you from years of pain, suffering and extensive costs for multiple and repeated dental work.
Analyzing the structural and functional factors in the chewing system is the basis for every new patient examination so that Dr. Karna can properly diagnosis and treat not only obvious problems, but also those that haven't even shown symptoms yet!
Did you know that most dental problems are not painful at first, but can be identified by a trained dentist before any symptoms or damage occur?
As a graduate of The Dawson Academy, Dr. Karna is one of only 10% of dentists in the country who practices the Concept of Complete Dentistry. He can identify the signs of problems before any symptoms or damage occurs, which means you can receive treatments in a more conservative and less costly manner.
About The Dawson Academy
Just like most professions, there's a range of skill levels among dentists based on type of advanced education, training, and philosophy of patient care. The Dawson Academy is an advanced dental education facility where dentists teach dentists to be better dentists.
Founded by Dr. Peter Dawson, The Dawson Academy teaches the Concept of Complete Dentistry. Although more time consuming for dental practices, Complete Dentistry results in more consistent, predictable and healthy outcomes for your oral health.
Dr. Dawson is one of the most respected and honored dentists in the history of dentistry. With a passion for teaching dentists to do it "right", he developed the Concept of Complete Dentistry to provide patients with healthy, beautiful smiles that would function properly and serve them comfortably for the rest of their lives. With two best-selling books on the Concept of Complete Dentistry, Dr. Dawson has influenced tens of thousands of dentists to pursue a better outcome for their patients.
Dr. Karna is ready to help you achieve that beautiful smile you have always wanted. Take a look at some of his work.
You can simply call our office at (951) 485 2800 or email Dr. Karna at staff@drharrykarnadds.com
Sparkle Family Dentistry